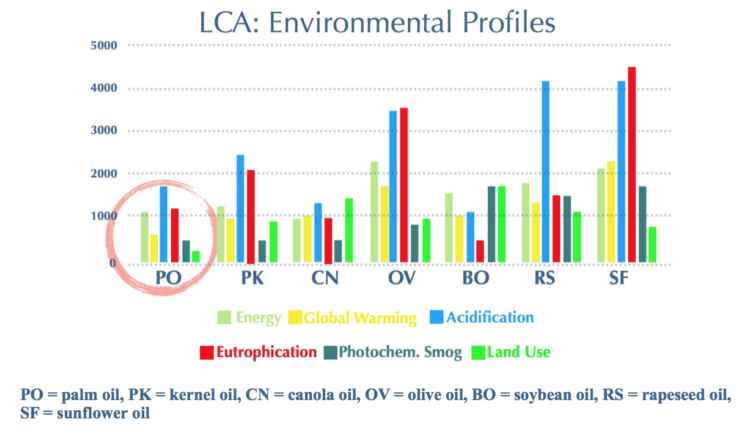 The new comparative study Free-from Palm Oil, but more saturates and less sustainable shows that the claim "Free-from palm oil" is highly deceiving for the consumer.
READ THE SUMMARY OF THE RESEARCH
The label "Free-from Palm Oil" is used to convince the consumer that food products without palm oil not only have a healthier nutritional profile but are also more sustainable for the environment than a product that contains it. This is because the absence of palm oil is associated with a lower quantity of saturated fats, as well as better environmental and social sustainability.
IT IS NOT TRUE!

63% OF PRODUCTS with palm oil have levels of saturated fat lower than to those in which palm oil has been eliminated and where the product is advertised with the claim "Free-from."
The average content of saturated fats in 'free from' products was 10,18 grams while products 'with' palm oil only contained 9,13 grams.
Products without palm oil are, in fact, less sustainable than those with it. The study shows that sustainable palm oil is better for both the environment and biodiversity than its plant and animal surrogates. The study refers to several comparative Life Cycle Assessments (LCAs) that examine various vegetable oils. The LCA is an analysis that measures the effects on the environment associated with a given product in each phase of its life cycle. In the LCAs examination,

palm oil turns out to be better

than its alternatives in terms of the overall environmental impact; particularly if we consider the parameters: energy used, greenhouse gas emissions, photochemical smog, and land use. In the figure below, these results are even more evident.
The claim "Free-from palm oil" is extremely misleading for consumers and stems solely from companies commercial reasonings and goals. The label "Free-from Palm Oil" provides the consumer with deceptive information that is not based on empirical evidence and is devoid of facts.
We call upon the new European Parliament and Commission to step up where others before them have failed, and to intervene to protect their citizens. Food companies use the claim "Free-from" for solely commercial purposes; worse yet, they are willing to do so through the imposition of deceptive behavior, and the damaging of consumer health and critical and fragile ecosystems. In doing so, they are leading consumers to believe that they are eating better and saving the planet, when, in fact, they are doing quite the opposite.
We call upon NGOs to boycott companies that abuse the "Free-from" claim because they do not contribute in supporting the environment or biodiversity, but on the contrary, they threaten it by not investing in sustainable supply chains, but instead, acting in favor of more commercially affordable supply chains.
Download the "Summary of the Study III Ed. " here
For a copy of the study write to info@forfreechoice.org