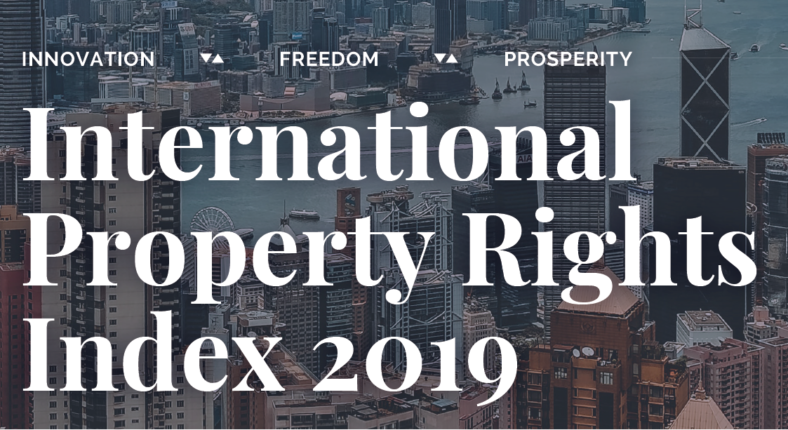 The Property Rights Alliance has released the International Property Rights Index of 2019, which measures the quantity and way that physical and intellectual property is protected. The ForFreeChoice Institute aligned with the International Property Rights Alliance and took part in helping create and research aspects of this Index. 
WHY IT IS IMPORTANT   Property rights are natural rights that fuel economic growth and social development. They promote innovation and stimulate productivity, while at the same time constituting an effective mechanism for defending individual freedoms.
The International Property Rights Index (IPRI) is a study carried out annually by the Property Rights Alliance and includes 127 Member States. It covers 98 percent of the world's gross domestic product, and 94 percent of the population. Each member state then receives scores in four categories, overall IPRI, Intellectual Property Rights, Physical Property Rights, and Legal and Political Environment. The scores range from one to ten, with ten being the best. 
GENERAL RESULTS   The average IPRI score considering all the Member States was 5.726. The weakest component on average was the Legal and Political Environment (5.16), with Intellectual Property Rights following close behind (5.55), and Physical Property Rights as the strongest aspect (6.47). Although the overall IPRI score fell (-0.26%), the highest scores in the categories increased from the last year.
TOP RANKS   Finland leads the overall 2019-IPRI score (8.713) as well as the score for Intellectual Property Rights (8.90). Switzerland ranks 2nd place overall (8.57) with New Zealand earning 3rd place (8.51) and then first place in the Legal and Political Environment (8.89). Meanwhile, Singapore leads in the Physical Property Rights component (8.71) and comes in 4th place for total IPRI score (8.46).
MORE PROTECTION EQUALS MORE INNOVATION   The index shows that there is a positive correlation between innovation and property protection. It is not a coincidence that the countries at the top of the ranking (Scandinavia, Singapore, Switzerland, USA) are also technologically and economically advanced countries with high rates of innovation. 
Fostering property rights protection means defending consumers' choice and help humanity prosper and develop. 
READ THE FULL VERSION OF THE INDEX HERE