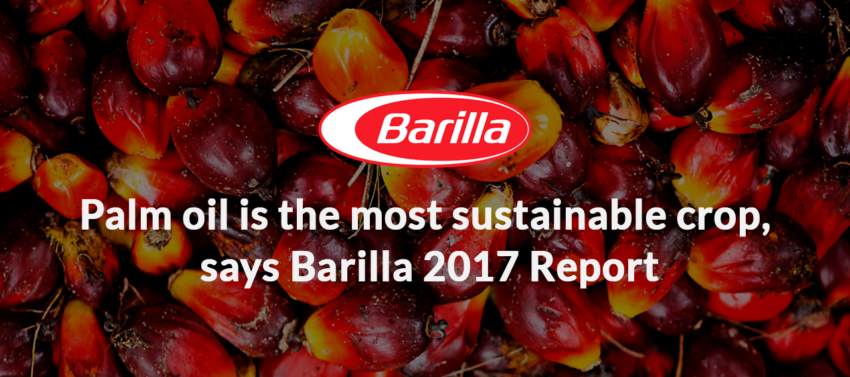 Why has Barilla replaced palm oil?
In the 2017 Sustainability Report, Barilla states that alternative oils and fats are less sustainable than palm oil. With more than 50 products analyzed, our comparative study shows that palm oil free products do not have lower saturated fats necessarily.
So, why has Barilla replaced palm oil?
The answer is simple: capturing more consumers in a stagnant market. In fact, Barilla benefited from the massive media campaign against palm oil promoted by some food and trade companies for commercial reasons.
The play is simple:
Consumers are warned that palm oil is harmful – FALSE
Consumers are terrified by fake science – TRUE
Palm oil is abandoned and replaced by ingredients that are claimed to be better – FALSE
The "palm oil FREE" label is added to reassure the consumer – MISLEADING
The consumer feels gratified and buys the "free from" product – DECEIVED
How would the zealous consumer groups, sponsored by the same food and trade groups, define this evil scheme?
According to these ideologically driven and well sponsored activists groups, palm oil is harmful:
For our health, so much to invoke the precautionary principle – even replacing the competent authorities that have significantly reviewed the real risk and introduced safety limits for ALL oils.
For the environment, because, they say, it is not sustainable.
Both statements are false as we have already demonstrated. Let us assume they are true for a moment. In fact, we want to trust Barilla, a company that uses the "Good for You, Good for the Planet" slogan.
We want to better investigate the issue by analyzing the Barilla 2017 Sustainability Report. In the "Good for You" chapter, we find out that Barilla has replaced palm oil with "30 different types of vegetable oils, particularly with sunflower oil, which means significant improvement in the nutritional profile of products and greater friability". Sunflower oil is low in saturated fats and reminds us of the wonderful yellow fields in the Mediterranean countryside. Is it true? Given the high share of Italian imports of sunflower oil from Eastern European countries, we suspect that what Barilla uses comes from Eastern Europe.
Our comparative study dismantled the saturated fat hoax. The level of saturated fats in palm oil free products is not lowered, when compared with others products that still use it. Sometimes, there is a minor improvement on the saturated fats profile, but it is not relevant if compared to the market average. Surely, this is not enough to convince consumers that "palm oil free" is the better way. This was recently stated by the Italian Ministry of Economic Development.
We will be soon back to talk on health and saturated fats with further articles and research, bringing some practical examples that will demonstrate that "palm oil free = low saturated fat" is not a mathematical formula but often a hoax. For now, let us focus on the equation "palm oil free = more sustainability".
In the "Good for the Planet" chapter of the 2017 Sustainability Report, Barilla tries to the low environmental impact of its products and its contribution to the achievement of the Sustainable Development Goals (SDGs) of the UN 2030 Agenda. From the analysis of the environmental impact (LCA) of the commodities used by the company in 2016, however, we find out that the sunflower oil carbon footprint (expressed in t co2eq), i.e. the impact from the point of view of climate-changing gas emissions, is almost twice that of palm oil. This means that the equivalent of 2.66 tons of greenhouse gas are emitted to produce 1 ton of sunflower. On the other hand, to produce 1 ton of palm 1.65 tons of gas are needed. The difference is more than evident. The following table, taken from the Barilla's Report, is clear.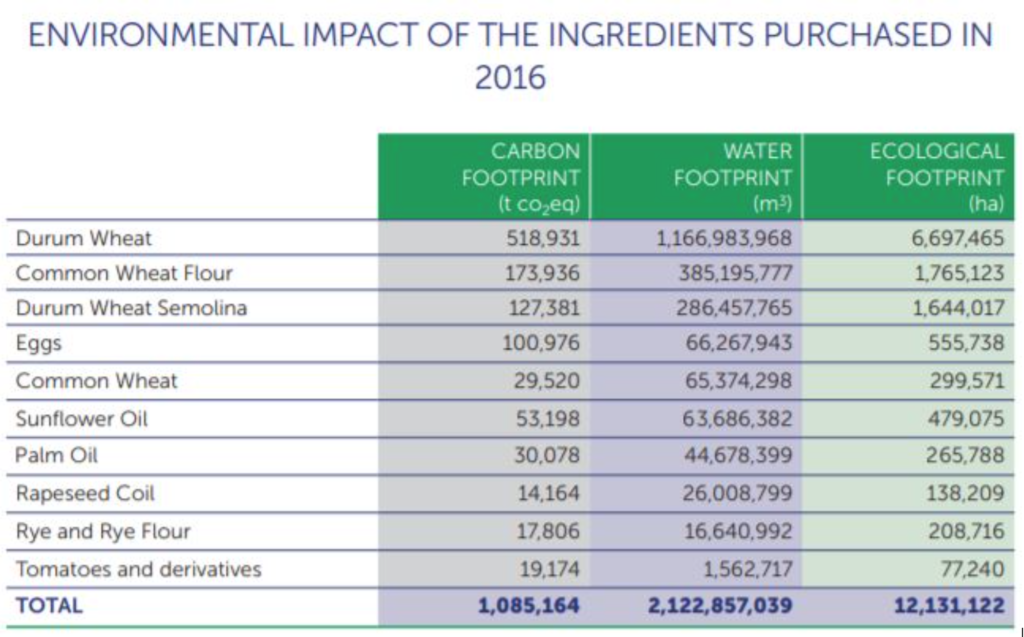 Concerning the water use, data says that replacing palm oil is does not lead to more sustainability. For 1 ton of palm oil, 2,448 cubic meters of water are used. For the same amount of sunflower oil 3.148 and for rapeseed 4,336. Instead, in terms of total land use, it is even more evident that alternative oils are far worse than palm oil (see Table 1). Ultimately, sunflower and rapeseed oil are less sustainable than palm oil.
However, there is more…
Barilla devotes particular attention to "commodities coming from supply chains with potential environmental and social problems, selected in a responsible way". A table in the 2017 Report shows the share of sustainable-certified commodities purchased by the company.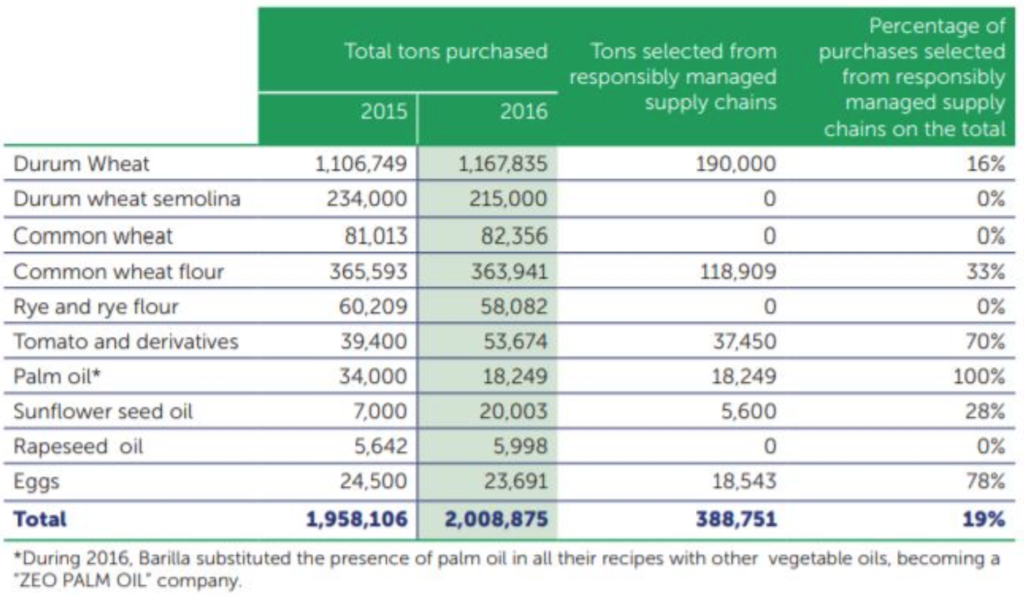 So why did they decided to replace palm oil in 2016, abandoning the only 100% sustainable chain and becoming a "zero palm oil" company?
Why did they focused on sunflower if its supply chain is responsibly managed only for 28%?
Not to mention the rapeseed (0%).
What would be the advantage if the Life Cycle Analysis clearly shows that palm oil is more sustainable in terms of environmental impact?
What is "Good fot the Planet"?
The truth is that (even for Barilla) palm oil is better for the planet. In Barilla's 2017 Report they are excited to explain that "our palm oil is certified by the Roundtable on Sustainable Palm Oil (RSPO) and it is consistent with Barilla's position on palm oil".  Sunflower oil, instead, comes from "Chains managed through cultivation regulations" and for what concerns rapeseed oil "the analysis of the local context and of possible collaborations with French suppliers is on hold".
Unlike companies that are more respectful of consumers, Barilla misses to explain that by eliminating the use of sustainable-certified palm oil, a higher level of sustainability is not obtained. Rather it worsens it. They should have continued arguing that, now, sustainable palm oil is the best solution in a world of 7 billion hungry people, the same folks Barilla and the food industry try to capture.
Then, why? It's marketing. Marketing –especially in a mature market where market share must be defended and conquered– is the king.
The food industry is free to replace palm oil, even at the expense of the quality and sustainability of its products. It is a sacrosanct strategic choice. But they have no right to deceive consumers with the claim "palm oil free" and other misleading arguments. It is a matter of respect to consumers.